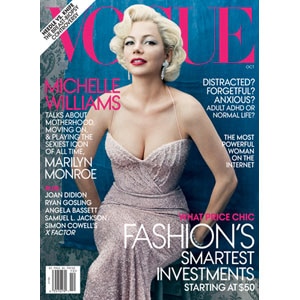 Everyone grieves at their own pace. And it seems like, three and a half years since Heath Ledger's shocking death, Michelle Williams is finally able to move on.
The famously press-shy (with good reason, granted) My Week With Marilyn Star sat down with Vogue to discuss how she came to heal in the aftermath of her loss, how she feels about reentering the dating scene, her lack of privacy and what she most wants to provide for her daughter Matilda.
"Three years ago, it felt like we didn't have anything, and now my life—our life—has kind of repaired itself," she told the magazine. "Look, it's not a perfectly operating system—there are holes and dips and electrical storms—but the basics are intact."
However, while she and Matilda, her 6-year-old spitting-image daughter with Heath, are moving on, they're obviously not wiping clean their memories, or the impact the loss had on them.
"It's changed how I see the world and how I interact on a daily basis. It's changed the parent I am. It's changed the friend I am. It's changed the kind of work that I really want to do. It's become the lens through which I see life—that it's all impermanent."
As for Matilda, who splits her time between their home in Brooklyn and the country along with her mama, Michelle said that there's one thing she wants for her daughter more than anything else.
"I wanted her to have the warmth and bustle and security of family." Hence various members of her family taking up residence alongside the duo in their large brownstone.
The closeness of the group has helped offset the lack of privacy Williams said she's come to expect. But not yet come to terms with.
"That's what seems the most rotten thing about it to me. And I'm going to do everything in my power to make her feel safe and protected, and to extend her childhood for as long as possible."
As for any future relationships, while Michelle has been paired up on occasion in the press, she told Vogue that for now, she's completely unattached.
"Relationships have always seemed mysterious, and therefore worth exploring. I'm single, so it's still kind of a mystery—a worthwhile mystery, one that I want to be on the scent of.
"I'm not lonely, and I think that has a lot to do with what's on my bedside table rather than what's in my bed."
Just to clarify: she means books, people.
Read more:
http://www.eonline.com/news/michelle_williams_opens_up_on_grieving/263419#ixzz1Xr82sbFC